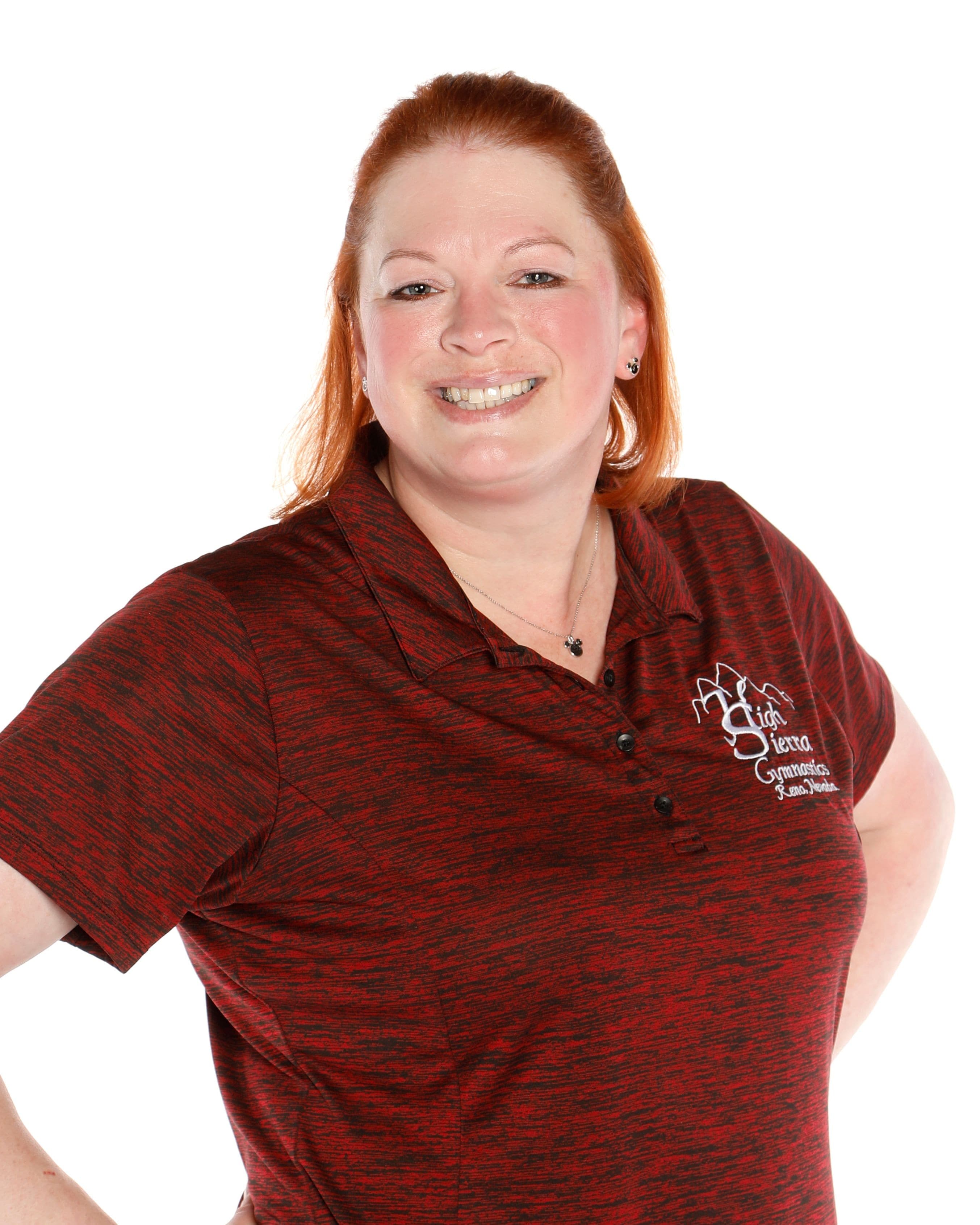 Laurie started working for HSG in 2003 as a recreational preschool and beginning girls' coach. She has been the owner of High Sierra Gymnastics since 2005. Laurie enjoys watching kids grow into athletes that mature and learn life lessons through gymnastics. Her goal for HSG is to have a gymnastics school that feels like family. Coaches that love gymnastics and love to work with kids. Laurie has helped run several large gymnastics competitions including Women's and Men's Nevada State Championships, Men's Region 1 Gymnastics Championships and Men's National Gymnastics Championships. She has helped run the Cal Benefit Cup for Men and Women at Cal Berkeley and their NCAA competitions. Laurie enjoys taking pictures of the gymnasts during their competitions to share with the parents.
Kellee started at High Sierra Gymnastics in October, 2012. She has become an especially important part of the HSG family. Kellee attended UNR and has a bachelor's in psychology. She enjoys cooking, baking and spending time with her family. Kellee is our Gym Manager and works extremely hard in running the everyday aspects of the gym. She loves working for HSG because of the family atmosphere it has. Her goal is to be successful in any obstacles that come her way. Kellee is a great addition to the HSG family. Every business needs a Kellee; but she is ours!
Competitive Girls Team Coach
Coach Emily is a former gymnast for High Sierra Gymnastics. Emily started coaching for us in June, 2008. Over the past years she had become one of the best coaches. In 2016 she became a Girls Competitive Team Coach. Her commitment to excellence is evident in the girls she coaches on the competitive program. Her goals are to develop the whole child with life lessons, coach with passion, not yelling and that winning at all costs is not the goal. Coach Emily enjoys working at HSG because employees and athletes are her second family. She loves that HSG is a special place that cultivates a safe and loving environment for kids to grow into happy, healthy, successful, and driven individuals. Her goal in life is to make a positive and lasting impact on as many lives as possible.
Competitive Boys Team Head Coach
Coach Tim started gymnastics in High School taking 1st place on PH his senior year. He received a full scholarship to Cal State Fullerton and placed 2nd on PH at the Pac 10 Championships in 1984.
He has been coaching gymnastics since 1981. In 2015 he moved up to Reno as the Boys Team Head Coach for High Sierra Gymnastics.
Coach Tim received the "Frank Cumiskey Award" in 2003. This is the highest award in the USA Men's Junior Olympic Program given to one person each year for their contribution to Men's Gymnastics.
He has helped coach many gymnasts onto Jr National Teams as well as All Around and Event National Champions.
Caoch Tim was a member of the USA Gymnastics Board of Directors and Advisory Committee to the USAG Board of Directors. He was the Region 1 Chairman and member of the Jr. Olympic Program Committee. He was the State Chairman of So Cal. He is currently the Nevada State Chairman. He was President of the USA Men's Gymnastics Association from 2003-2015.
He has been on many committees throughout his 35+ years of coaching. He is currently on the USA Age Group Competition Committee (AGCC) and is a member of the USA Compulsory Writing Committee. He has also been a member of the Jr. Olympic National Championships Format Committee.
Coach Tim hosted and helped out at many gymnastics events and is one of the best Event Directors in the men's community. He has been the co-Meet Director for the USA Men's Jr. Olympic National Championships 6 times. He has been the Meet Director (and co-Meet Director) for the Region 1 Championships 11 times. He has also been a Nationally rated Judge since 1986.
He has been a presenter at the USA Gymnastics Congress as well as at many of the Men's New JO Program Workshops. He has presented at the USA Men's National Coaches Workshop in Colorado Springs.
Competitive Girls Team Coach
Coach Nathan is one of our own. He started on the competitive team and when he retired from competing, he jumped right into coaching. Coach Nathan started with us in June, 2015. Coach Nathan coaches our girls' competitive team. He graduated from UNR in the winter of 2020 with a bachelor's degree in political science and minors in political philosophy and community health. Outside of coaching he is getting his masters degree in education and plans to teach high school social studies. Coach Nathan is in charge with keeping the gym clean and equipment in top shape. He enjoys HSG because he loves being able to have fun with the kids every day and teach them about his passion. His goals are to be happy, to teach and serve the younger generations as much as possible. Coach Nathan is an awesome staff member and coach.
Preschool & Girls Program Director
Coach Taylor was on our competitive team and worked for High Sierra Gymnastics from April, 2009 - December, 2011. She left to start a family. Coach Taylor returned to HSG in June, 2016. She coaches and is our Preschool and Recreational Girls Program Director. Coach Taylor has her hands full at home raising 3 beautiful daughters! She enjoys working at HSG because she is able to watch kids work hard and accomplish their goals and HSG is family. Coach Taylor's goals are to raise respectable humans and find something she is passionate about! We are happy to have Coach Taylor.
Competitive Girls Team Coach
Coach Petra started her gymnastics career here at High Sierra Gymnastics as a competitive gymnast. Coach Petra retired to focus on her ballet dancing. She joined our coaching staff July, 2017. Coach Petra likes coaching at HSG because she loves seeing the kids progress from one season to the next. She's amazed as a coach to see gymnasts achieving their goals, and always makes her smile. Coach Petra is going to UNR and her goals are working towards her degree in Kinesiology and to become a physical therapist/occupational therapist. Coach Petra believes that there is a lot of potential in that line of work, and she's always looking for ways to challenge herself. Plus, her knowledge that she's gaining from her schooling is helping her become a better gymnastics coach. She is one of our girls' team coaches and we are so happy she has come back to her home!
Birthday Party Director Competitive Girls Team Coach Recreational Class Coach
Coach Tyler started her gymnastics career at High Sierra Gymnastics as a competitive gymnast. She joined our coaching staff January, 2018. Coach Tyler is our Birthday Party Director and does an incredibly good job at keeping the parties' fun for our guests. She has graduated from UNR and plans to find a job in her field that allows her to help those who come into contact with the law because of their substance use/mental health disorders. Coach Tyler says, "I love that the environment [at HSG] allows me to teach children gymnastics while also allowing them to have fun." We are excited to have her on our team.
Competitive Boys Team Coach
Coach Tristan started his gymnastics career here at High Sierra Gymnastics as a competitive gymnast. He was on our competitive team until January, 2020 when he retired to become a competitive team coach. He joined our coaching staff June, 2018. We are happy he has decided to stay and help shape the new crop of gymnasts into exceptional gymnasts.
Coach Diana started coaching for us in December, 2012. She is a retired gymnast and enjoys coaching preschool and beginning girls. Coach Diana is attending Carrington RN program to become a nurse. She likes working for HSG because she loves working with kids and HSG is like one big family. Her goals are to finish her Nursing degree and be the best mother she can be! Coach Diana has three little gymnasts of her own here at HSG.
Coach Kaitlyn began coaching at HSG in July, 2018. Coach Kaitlyn has fun coaching preschool through our highest level girls' classes. She's also coaching boys' classes! She is attending UNR and is in nursing school for her BSN degree. Coach Kaitlyn says she likes coaching at HSG because "I love that every day is a new and interesting day at work. The kids make my job so much fun, providing me with individual personalities to enjoy with each class I coach. I am so glad that this job allows me to reconnect with my past for my love of gymnastics." Some of her goals are to graduate and earn her RN license, then go on to earn her masters and become a pediatric nurse practitioner. She plans to stay connected to the gym, by one day bringing her kids to take classes at High Sierra Gymnastics. Coach Kaitlyn is a fun coach, and we are happy she coaches here at HSG.
Coach RaeLena started coaching for HSG January, 2016. She coaches Parent and Me, Prescholl and Beginning Girl classes and they are very fun.
Coach Niko has been coaching for us since June, 2021. He is a high performing gymnast on our competitive team and is able to coach a variety of classes. Coach Niko coaches Preschool, Beginning Girl and Beginning Boy classes. We are so happy he decided to coach.
Coach Emme started coaching her coaching career in October, 2021. She is a fun coach and coaches Preschool and Biginning Girl classes.
Coach Maddy is a T&T gymnast and the sister of the amazing Coach Nathan. This makes her destined to be just a wonderful of a coach. She coaches Preschool and Beginning Girl classes.
Coach Rysa is another sibling working for HSG. Her sister is Coach Petra and her brother is Coach Tristan. Coach Rysa is the highest girl competitive gymnast we have and she is awesome! She started work at HSG in December, 2021 and we are so glad to have her.
Training Recreational Class Coach
Training Recreational Class Coach